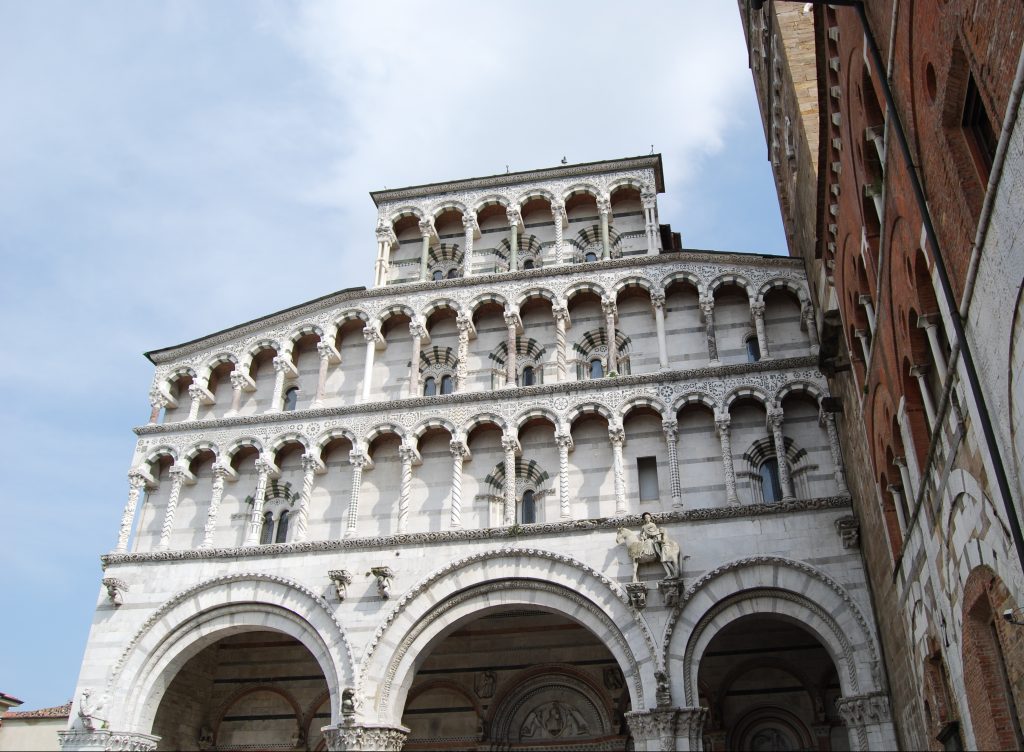 Ravenna has early Christian and Byzantine basilicas with magnificent mosaics, dating from the 5 and 6th centuries A.D.
Florence. Of all its great treasures the foremost attractions are probably the Duomo, the Uffizi Gallery, Ponte Vecchio, Palazzo Vecchio and Michelangelo's statue of David.
Assisi, birthplace of St. Francis, standing on it's promontary bathed in sunshine, is a memorable sight. The Church which houses the saints remains has been repeatedly damaged by earthquakes, but is now open again.
Siena holds the Palio horse race yearly on July the 2nd and August the 16th. It is held in the Campo, which fronts the magnificent civic museum. The spectacular interior of Siena Cathedral is outstanding even in Italy.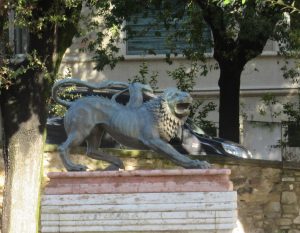 Arezzo is the provincial capital of Tuscany. It has many important Etruscan and Roman finds including the famous Chimera, and is famous for the Piero della Francesca frescoe, 'The Story of the True Cross', in the Basilica of St. Francis. It holds an outdoor antiques market on the first Sunday of each month.
Sansepolcro is the birthplace of Piero della Francesca and is only 30 minutes from the villa. You can visit his house and gardens and see his most famous frescoes in the city museum. It has great churches, palazzos and cloisters, with doors opening straight onto the main streets. It has been likened to a little Lucca.
There is a Balestra every year, a crossbow and banner -waving competition, staged in the main piazza in spectacular costume. There are colourful Tuesday and Saturday street markets, and a Friday evening flea market when you can stroll with the family groups, admire the stalls and and have an al fresco street supper.
Use this link map to Find your Way from Simonicchi to different places of interest between 1hr – 3hrs. away
1hr. Monterchi 41, Badia Tedalda 48, Poppi 51 Parco Nazionale delle Foreste Casentino 56, Umbertide 56,
1-2hrs. Arezzo 1.03, Assisi 1.04, Castiglion Fiorentino 1.06, Riserva Naturale del'Alpe della Luna 1.11, Gubbio 1.20, Perugia 1.20, Spello 1.22, Montevarchi 1.23, Cortona 1.30, Cesenatico 1.30, Ravenna 1.35 Montepulciano 1.39, San Leo 1.38, Lago Trasimeno 1.40, Siena 1.45, Camaldoli 1.47 Pienza 1.48, Rimini 1.56, Florence 1.57, San Marino 1.57,
2-3hrs. Val d'Orcia 2.0 , Urbino 2.2, Fano 2.8, Orvieto 2 .10, Bologna 2. 15, San Giminigiano 2.31, Volterra 2.45
For those who are interested; not only the best of Renaissance Art but the best of Italian couture is near at hand. Famous name outlets to be found in Tuscany and Umbria include Valentino, Armani,Diesel, Pucci, Marni, Roberto Cavalli, Gucci, Hogan, Dolce & Gabbana and Prada. For more information : umbria/tuscany outlets