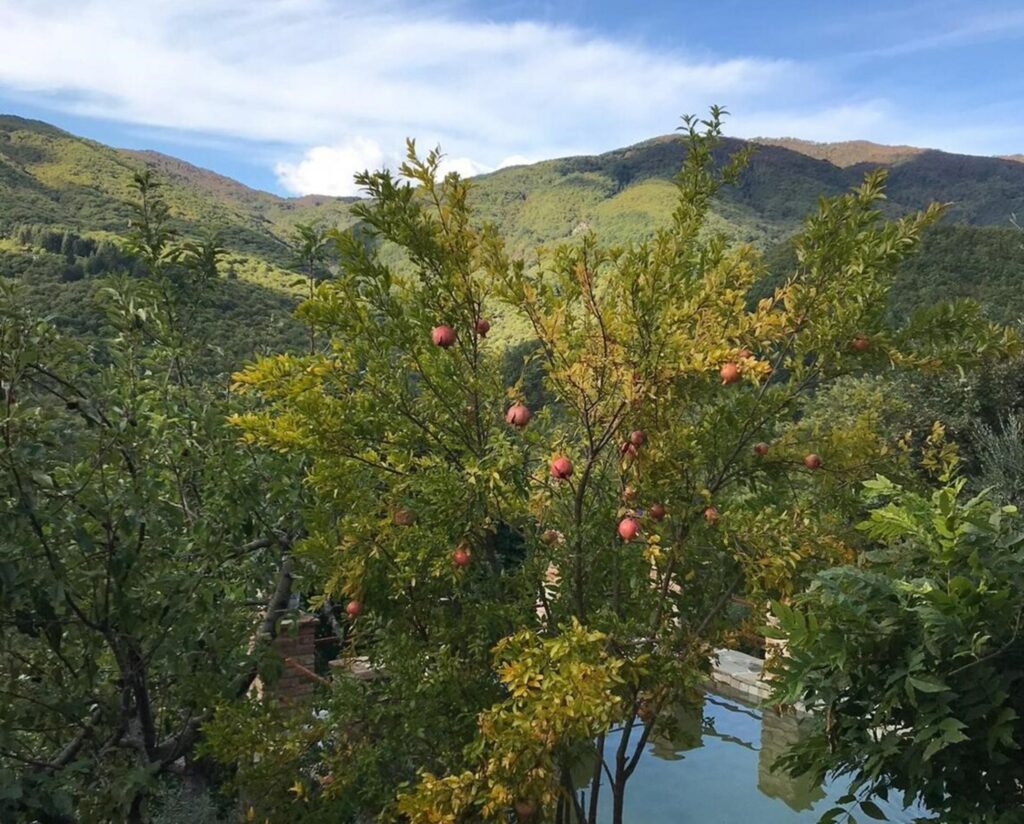 A peaceful retreat in Tuscany between Florence, Assisi and Arezzo.

To let.

High Barn 4. Garden Cottage 2.

Terms vary according to length of stay.
Villa Simonicchi is a converted farmstead set in the beautiful hills of the Apennines .
The top floor, The High Barn, has been made into a spacious apartment which has a wonderfully relaxing roof terrace. It is completely private – a world apart. Here you have a breathtaking panorama of rolling chestnut forests and distant mountains where you can wine and dine and laze your days away.
The apartment has 2 double bedrooms with attached shower rooms, separated from each other by the dining kitchen and a big, airy sitting room which has an interesting selection of books. In addition you can use the small, Roman-style pool set in the terraced gardens below, where you are engulfed with aromas of herbs and flowers.
The High Barn and the Garden Cottage are available to rent from Spring until Autumn, inclusive. The longer stay the better the discount.
The more intimate Cottage on the edge of the garden has a courtyard to the side and a balcony overlooking the pool. It is totally relaxing – perfect for a couple – but would also make a good longterm venue for a single person with work to do. There is a comfortable living room on the ground floor and a double bedroom with a shower room above.
The whole is set amongst the great hills of Caprese Michelangelo in the once remote heart of the Tuscan countryside. The surrounding views are awe-inspiring.
Dotted around, only a short drive away, are small villages with grocery shops and a surprising number of good, traditional restaurants.
The network of footpaths spreads out for miles. You can leave the road and take a track – not knowing where you will end up – forest, abandoned hamlet, vineyard, high pasture or a chapel on top of a mountain ridge.
A mountain bike is available for the dedicated rider. The mountain circuits are not easy and used for hill-climb training by amateurs and professionals alike..
Nature and culture, rest and exercise, wines and gastronomic delights await you..
* Book now to start your adventure.
High Barn sleeping 4
1 week €980,
20% reduction for 2 weeks or more.
Cottage sleeping 2
1 week €600
20% reduction for 2 or more weeks
Long term stays negotiable
For any further questions or to book your stay at Villa Simonicchi:
Tel: 0039 334 7214507 prepaid (small when in home, garden and out)
Email: jenny@villasimonicchi.com