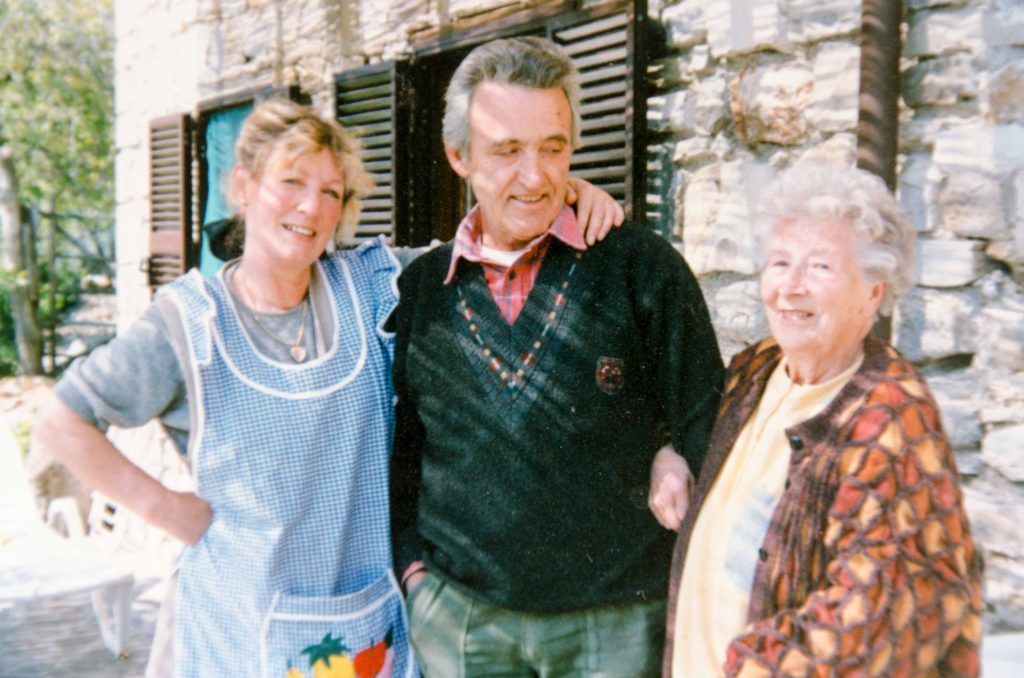 This photo takes us back to 1998, when Jennifer was 61 and building was still in full swing. It was a happy, busy and creative time for all. The builders had finished the major work, the farmhouse had been bought, and friend and neighbour Vittorio was busy restoring it and incorporating it with the barn. Here Jennifer and Vittorio are seen with her mother Hilda, who came to stay for a short visit and decided to stay forever.
Life changed for Jennifer in 1967 when she spent two years Bahrain. It was a very different culture – tracts of desert scattered with ancient ruins in the south, green, experimental farming areas in the north surrounded by the warm, transparent Gulf sea, with it's archaic sailing ships and huge fishes.
It was a place of great contrast; palaces, pearls, gold and oil, shacks and medieval poverty. Jennifer's interest in art was rekindled when she started illustrating a diary about what she saw there. This passion remained with her and many years later as a mature student, she took a degree in Sculpture at Leicester Polytechnic.
Visiting Italy must be every sculptor's dream, and she was overjoyed in the late 80's when friends invited her to stay with them at their farmhouse in Tuscany. After a week they pressed her to stay …… and at the end of a fortnight she was the surprised new owner of their condemned barn! They introduced her to a builder who could not speak English. She could not speak Italian, but it wasn't a problem. She measured up the barn, made a model of her design, collapsed it and sent it back to a surprised Giancarlo.
Starting in 1988 she restored the long barn and made a terraced garden out of the village rubbish dump. It took many years. When she thought she had finished, she was persuaded to buy the farmhouse …. and she started all over again.
Now the house has become a convivial retreat for people looking for a slower pace of life. Apart from simply relaxing they can explore the countryside by foot or car (maybe an occasional city) paint and draw, make music (Jenny plays the flute and has just started to learn the cello), learn traditional cooking , and wine and dine very well in the five family-run restaurants. The guest list includes poets, astronomers, photographers, cyclists, lawyers and even a tired politician. It is a great place for getting to know people. Friends, guests, helpers and residents meet and talk together endlessly – usually in a mixture of several languages at once.