It has been a wet, wet Spring. Although it is not cold there is still a dampness in the air when the sun is down.
Everything is green as far as the eye can see.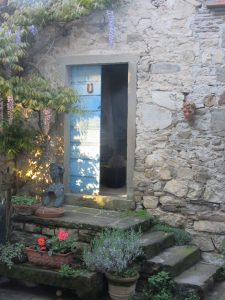 The cherry and pear blossom has gone from the woods and the small fruits are growing under the canopy.
The birds are singing without stop and the air carries the perfume of a thousand flowers – Mille Fiori.
Not surprisingly it is the name of the local honey.
Honey-gathering season or not, you will always find the painted wooden beehives on the hillside, red, yellow, white and blue, colour-directing the bees to their personal delivery zone.